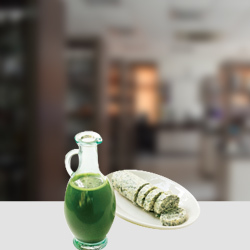 Basil Oil
Product Code : 28
Product Description
Product Name : Basil Oil
Family : Lamiaceae
Description & extraction : Basil oil or sweet basil is a common name for the culinary herb ocimum basilicum and it is extracted by the process of steam distillation. Basil can also be propagated very reliably from cuttings in exactly the same manner as 'busy lizzie', with the stems of short cuttings suspended for two weeks or so in water until roots develop. Once a stem produces flowers, foliage production stops on that stem, the stem becomes woody, and essential oil production declines. To prevent this, a basil-grower may pinch off any flower stems before they are fully mature. Because only the blooming stem is so affected, some stems can be pinched for leaf production, while others are left to bloom for decoration or seeds. Basil oil is pale greenish-yellow in color and has thin consistency and strength of initial aroma is medium. It is a watery viscosity. It is sweet, herbaceous, licorice like, slightly campherous. Basil oil blends with bergamot, celeray sage, clove bud, geranium, lime, lemon, hysoop, juniper, eucalyptus, neroli, marjoram, rosemary, melissa and lavender.
Botanical Name : Ocimum Basilicum
Chemical Components : Basil Oil has such different scents because the herb has a number of different essential oils that come together in different proportions for various breeds. The strong clove scent of sweet basil is derived from Eugenol, the same chemical as actual cloves. Other chemical that help to produce the distinctive scents of many Basils i.e. Citronellol, Linalool, Myrcene, Pinene, Ocimene, Terpineol, Linalyl Acetate, Eugenol etc.
Toxicological Properties:
Basil Oil showed antifungal and insect-repelling properties and it is confirmed that extracts from the plant are very toxic to mosquitoes. However, the plant is not toxic to rats also there are no equivalent reports of its use against humans.
Appearance : Fluid liquid
Colour : Yellow to Pale Yellow colour
Odour : Typical odour of Eugenol
Botanical Source : Ocimum Santum
Contact Us
E-191, Sector 63, Noida, Uttar Pradesh, 201309, India
Phone :+917042471302