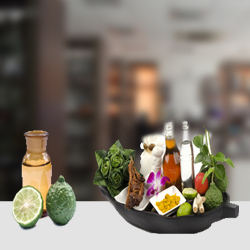 Bergamot Oil
Product Code : 29
Product Description
Product Name : Bergamot Oil
Family : Rutaceae
Description & Extraction : Citrus bergamia is a small tree which blossoms during the winter. The juice tastes less sour than lemon, but more bitter than grapefruit. The distinctive aroma of the bergamot is most commonly known for its use in Earl Grey tea. The juice of the fruit has also been used in Calabrian indigenous medicine to treat malaria, and its essential oil is popular in aromatherapy applications. It is extracted from the aromatic skin of this sour fruit is used to flavor Earl Grey and Lady Grey teas, and confectionery.
Botanical Name : Citrus Bergamia
Chemical Components : The Bergamot oil is composed of various chemical constituents and includes a-pinene, myrcene, limonene, a-bergaptene, b-bisabolene, linalool, linalyl acetate, nerol, neryl acetate, geraniol, geraniol acetate and a-terpineol.
Toxicological Properties : Bergamot oil can cause burns when used on a sensitive skin which is then exposed to sunlight, as the high content of bergaptene can cause photo-toxicity. It is advisable to keep out of the sun if this oil is used on the skin. Even when the ingredient Bergaptene (Furocoumarin) is removed from the oil and photo toxicity is therefore minimized; it is still advisable to keep treated skin out of the sun, and to use it in concentrations of less than 1 %.
Appearance : Fluid liquid
Colour : Green or Olive Green
Odour : The odor is extremely rich, sweet-fruity characteristic oily herbaceous & somewhat balsamic body & dryout.
Botanical Source : Ocimum Santum
Contact Us
E-191, Sector 63, Noida, Uttar Pradesh, 201309, India
Phone :+917042471302