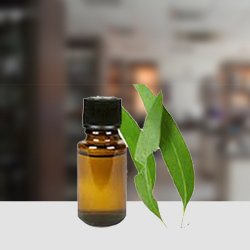 Product Description
Our clients can avail an extensive range of Clove Leaf Oil from us. This oil is precisely processed by our expert team who use fine quality clove that is sourced from trusted vendors. It is widely known for its antiseptic, anti-bacterial, anti-viral, anti-fungal and stimulant properties. The oil is special formulated for the dental problem as it provides instant relief from toothache. To ensure its high freshness and purity, the Clove Leaf Oil is checked on various quality parameters.
Features:
Beneficial minor health concerns
Soothing aroma
Free from impurities
Product Name : Clove Leaf Oil
Family : Myrtaceae
Description & Extraction : The oil of clove buds is known for its antimicrobial, antifungal, antiseptic, antiviral, aphrodisiac, and stimulant properties. Apart from its positive effects in the field of dental care, it can also be used as a treatment for minor health concerns.
Botanical Name : Eugenia caryophyllata
Chemical Components : The findings indicated that the essential oils mainly had about 87.00% eugenol, 8.01% eugenyl acetate and 3.56% β-Caryophyllene. The chemical composition of the Turkish clove bud oil was found to be comparable to those from clove trees naturally grown in its native regions. Adams, R.
Toxicological Properties : Bergamot oil can cause burns when used on a sensitive skin which is then exposed to sunlight, as the high content of bergaptene can cause photo-toxicity. It is advisable to keep out of the sun if this oil is used on the skin. Even when the ingredient Bergaptene (Furocoumarin) is removed from the oil and photo toxicity is therefore minimized; it is still advisable to keep treated skin out of the sun, and to use it in concentrations of less than 1 %.
Appearance : Fluid liquid
Colour : Yellow to Pale Yellow colour
Odour : Typical odour of Eugenol
Botanical Source : Cultivated
Contact Us
E-191, Sector 63, Noida, Uttar Pradesh, 201309, India
Phone :+918068094639